I am the youngest of 3 sisters (Lucia, Anna the other two ones). When I was a child I was weak and full of aches and pains, I suffered from car sickness to the point the car had to stop lest I soil it if I had to travel longer than 45 minutes. I had more hair than muscles.
My father was a craftsman and a merchant. In order to make me stronger, he made me race bicycles since I was 9. Even if I didn't like it, cycling allowed me to boost my confidence and create a healthy relationship with my body.
At 21, I quit bicycle racing after achieving the second place in the Italian Championship and having barely missed participating into the Seoul Olympics in 1988.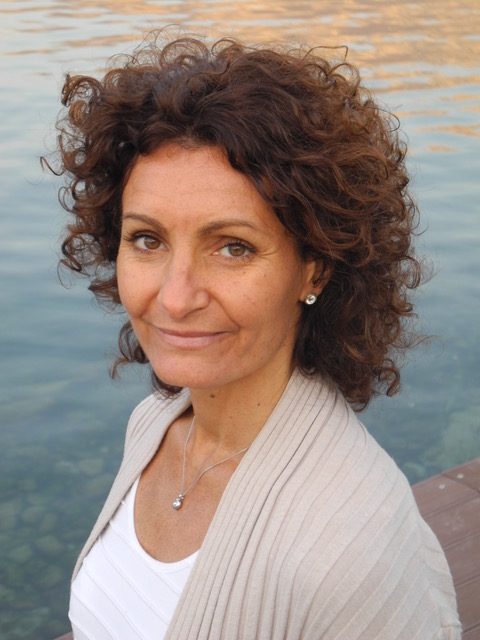 From that moment I started practicing several sports over the years: I became aerobics instructor and took part in Latin American dance performances, I ran the New York and Berlin marathons, I became a sport climbing instructor, and I ran triathlons. During the winter, I ski, and practice rock climbing. During summer months, I mountain bike and kitesurf. Sport has become one of my most great passions, which I still use today as a continuous research tool on my body, mind and soul.
It has become a practice closer to the exploration of the infinite possibilities of the body, especially when it is in true communion with the mind till I gradually lost interest over sports performance. I no longer feel the need prove myself to others, neither myself, about my own skills.
Overcoming my limits through sport tastes more like curiosity about understanding how far I could go when my mind is focused and my relaxed body just follows my commands.
Also I have started to practice sports where the connection with each other or others becomes a determining factor since I never have practiced in team sport previously.
I have begun to practice with great fun and lightness acroyoga, or acrobatic yoga, which is practiced together with another person. Concentration and capability to keep focused is the basis but then there's also the trust and ability to connect with the other person.
It's always very important to keep in contact with my inner self in solitude and with nature in order to regenerate. Trekking and long walks are something I do everywhere I go, mountains, sea, desert or hills. What is enough for me is nature, fresh air, silence and solitude.
At 28, I started to realize there's something that resides within everyone of us. I started to research my own self coupling the most "external and active" sports with the "passive and interior" eastern techniques, such as Thai chi, yoga, and meditation thus opening the infinite world of spirituality. Passion for my wellness in every field of my life and my natural curiosity as explorer led me to become a nutrition enthusiast as well as learning different kind of techniques also related to self healing and the use of inner energy such as reiki and qi gong.
That allows me to the gain an holistic view of myself and people. Over time this creates more space and meaning into my life both personal and professional because I feel that everything else arises from this. The practice of "presence" is living in the present moment taking distance from identifying with temporary thoughts or emotions and it becomes one of the keystones over which I build everything else. I am inspired mainly by teachings of the Buddhist monk Thich Nhat Hahn and master Eckart Tolle with whom I had the opportunity to work personally with, not just reading their books. For that, I will always be grateful.
Ever since I started my journey with Dale Carnegie, I've never stopped training. My holidays have all turned into research and exploration trips all over the world on all 5 continents.
Important and sometimes even extreme experiences including fasting, isolation, learning in close contact with Masters of different religions and philosophies including Buddhism with Master Thich Nhat Han, Hinduism in different ashrams in Bali, the Franciscan style, different hermitages in Umbria, Native Americans traditions with different shamans and curandere and then an endless series of courses and routes around the world.
I spent several years in this way without prioritizing money or proximity. When a master inspires me, I don't care what he is, I go there and I dive into their teachings: United States, Canada, Malaysia, Bali, Thailand, Brazil. These are just few of the places I visited during my growth all these years since 1993.
Also the ways had their importance. The Way of Fatima, Santiago, Saint Francis and also the Way of Israel with the desert of the Negev, where Jesus spent his 40 days fasting (at least so they say) all strictly alone. In order to process all this, I had a sabbatical longer than one year. Everything I learned about all that time and energy invested in my personal growth is that despite frames, names and traditions, the basic principles are always the same. It's something that often can be heard or read.
Experiencing this firsthand, I understood it internally and deeply and I feel the freedom to participate in a mass, a shamanic ritual and a Buddhist meditation perceiving, as if they were trees, the roots that draw from the same source and the branches that go in the same direction.
At 24 years old I graduated in business and economics with flying colors and soon after I left for the US where I lived for some months, working into the General Headquarters of Dale Carnegie Training in New York.
This is the key experience where I feel that my mission lies precisely about personal growth, not only for myself but also to be transferred to others.
I returned to Italy and that passion has become my profession as well. This is how I stay in Dale Carnegie Training Italia, company of which I become also partner. These were very intensive years, I was 24 years old and I had the chance also to get in touch with brilliant minds from all over the world, ranging from Dale Carnegie Training teachers and managers from all over the world.
At least 2 times a year we would find ourselves in some course or convention. I was one of the youngest participants and everyone willingly gave me information to help me in my personal and professional growth. I had become the adopted niece of so many VIP characters that I playfully called uncle and aunt.
In those years, Italy began to look at the company training of non-technical skills, linked to behavior and inner attitude.
Issues like communication, public speaking,how to deal with stress, how to relate with people even when they were so different from each other, during work and personal life., principles of leadership, problem solving, emotion management in one's mood and so on become key points in the eyes of managers, CEOs and entrepreneurs.
So it start my wonderful job in such companies and in all next years I had the pleasure and honor to train thousand people including Merril Lynch Italia A.D., Hugo Boss Woman, Fiat SAVA, Fidis Retail Italia in addition to entrepreneurs and top managers of Italian and foreign companies such as Siemens, Citibank, Barclays, INA and SAI Insurance but also medium and small companies with strongly motivated entrepreneurs to to work on themselves and all their people as well.
In 2003 something changes in Dale Carnegie company: I feel myself less likely to keep up with my mission on people and more business oriented.
After a wonderful intense time which lasted 10 years due to some tough moments of uncertainty I decided to leave the company, leaving inside a deep feeling of hollowness, just like my groundwork has been ripped off. Actually many collaborators worldwide decided to do the same and so I start a kinda like of parallel network where I kept getting in touch and work together also in business over international customers.
In 2006, after two years of self-employment, I opened my own training, coaching and business consulting company.
So it was born the Love Management brand and philosophy, which integrates not only business but also practical tools and spirituality.
Love = choose with heart, Management = act with method. The heart includes all the spiritual part, emotions, our most creative and intuitive part, which includes our mission here on this Earth.
Management honors and uses our rational mind which is very often overused even for purposes that are not aligned with its nature and on the other hand too demonized by those who have begun its path in the spiritual world.
The Love Management brings spirit and heart in harmony with thoughts and rationality.
Therefore not without reason is called Love Management and not Management Love
In 2014 due to a strong "call" I took my sabbatical year. At the beginning it looked impossible to me leaving out a company with collaborators, an important management office under lease, many projects in the long run with corporations and individual customers. I needed about 2 years of organization and preparation in order to fix up everything. The year is dedicated to deep listening and programming absence.
I ran out from years of planning and pianification. In January I already had many of my days booked by programs with business customers and scheduled courses even with the ending days related to companies projects and scheduled Christmas dinners.
I feel the need of inner freedom and listening, to cut out certainties and security built over years in order to find out what else there is.
I took 22 planes that year touching many countries and getting several different experiences, always related to personal growth. Experiences included 6 weeks in a Buddhist monastery, crossing Israel by foot, the ashrams of Bali and the vast Australia with unspoilt landscapes were among the most important experiences.
The sabbatical period makes me understand that the adventure as an entrepreneur needed to be over in order to return to devote myself full-time into exploration, study and sharing through books, seminars, video, growth paths, programs in companies.
The company meant to support my mission but at the cost of too much energies for me at the expenses of the mission itself.
At the end of the sabbatical year, my mission remain the same it just changes the way.
I keep on dealing with training, tutoring, coaching and consulting but leaving out the burden of the old set-up about a structured organization and an office.
Books are one of the ways for me to connect deeply with my Greater Guide. With the completion of the first one Love Management I begin to understand this way of writing.
Books are one of the ways for me to connect deeply with my Greater Guide. With the completion of the first one Love Management I begin to understand this way of writing.
Most of the book is written as a result of thoughts and archived knowledge in my mind and a small portion just "comes by" instead just like it's dictated from someone else.
The result is that I take much time to write it down and often I found myself in trouble. With next ones Riprendi il tuo Potere and Il Potere della Solitudine, the main mode is just the second.
Writing becomes for me a way to heal myself and growth, I am the first one to get advantage from what the book hold. Within my seminaries I thus introduce writing as a tool of profound connection with the wisest divinity inside each one of us. The purpose isn't necessarily to write a book but simply write it down, even for ourselves and be able to learn and grow from what we have written.
With video and audio courses I have a chance to express myself and share the way I feel most simple and direct, which is throughout words.
In this way the words are not lost but could be heard several times from anyone in every moment by accessing the inspiration contained, not only by those who were present in a specific seminar.
I myself sometimes listen back to my recordings and often get new and unexpected insights or reach a deeper level of understanding.
Unconventional time management tools, cleaning and empowering of energy centers (chakras) , audio tracks to learn meditation, practical tools to problem solving, communicate more easily and effectively with everyone, improve quality of relationships, thoughts and emotions management… all these are the main areas covered.
Saint Francesco D'Assisi:
"There are not bad wolves, there are just sad ones".
This help me remember we all have a divine spark inside of us, everyone share a pure heart. Behaviors, words and actions not aligned with feelings of peace, love, understanding, union are due to wounds that each of us has suffered which try to find relief with unconscious ways that instead bring further suffering to ourselves and others.
The faster we learn that concept making it our, faster violence, suffering and misunderstanding will cease in every field of our life and in every place of earth.
What do they value about me?
HERE'S SOMETHING THEY WROTE ABOUT ME THAT I REALLY LIKE.
"I appreciate the professionalism combined with a deep sense of humanity, the energy that you transmit to those lucky enough to be close to you and your willingness to share, even very personal, experiences of growth"
Fill out this form to receive information by email: